Award winning LCD body massage gun
Product image 1
Product image 2
Product image 3
Product image 4
Product image 5
Product image 6
Product image 7
Buy Award winning LCD body massage gun.
PERFECTLY RELAXED JOINTS ANYWHERE, ANYTIME!

Ever experience the stubbornness of joint pain after a good workout?
With our ⭐ Award Winning LCD Body Massage Gun, that will be the least of your problems!
---HIGHLIGHTS---
✔️【Newest Massage Gun】Relieves muscle soreness more easy and scientific, new technology helps you solve the constant tension of neck and back, a good lifesaver for those who work and need that quick post-workout recovery.

✔️【Balance Design】Designed to 2 handles---better to grip, prevent slips. Two handles provide balance power strength on your skin. You can use one or two hand to operate it.

✔️【Effect And Benefit】Offers more pressure and speed than traditional massage, scientifically-calibrated to deliver deep muscle treatment, 40 times per second, to relieve muscle tension.

✔️【Versatility And Portability】You can choose between 4 different detachable massage heads. It also comes with a zippered carrying case and pouch for the attachments.
✔️【Ranked Massage Gun Trusted By Champion Athletes】Used by Professional, Collegiate, High School, and even youth teams. Powerful and Quiet. Look closely you will see this massage gun on the sideline, in the gym, or the Physical Therapist Office. Because it is portable, Quiet, easy to use and proven.
---Perfect for an active muscle pain free life!---



---SPONSORED---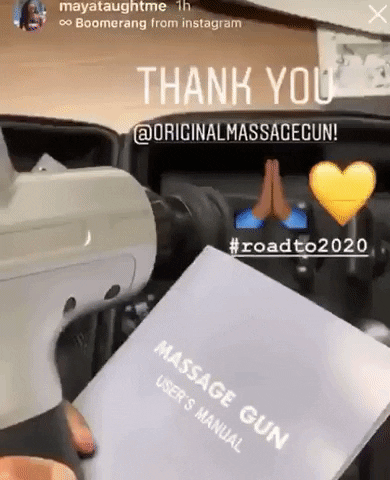 -----
Professional Runner -
Maya Stephens
- in 2019 she made the track and field World Championships, representing Team Canada
-----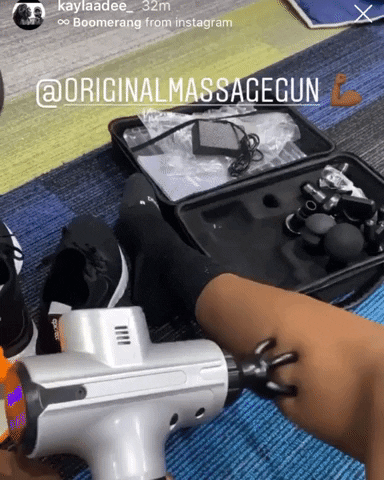 -----Professional Nike Runner - 
Kayla White

 
-
 In 2019, she ran the fastest indoor 200m in the WORLD!-----
---DESCRIPTION---
The ⭐ Award Winning LCD Body Massage Gun is a MUST have for every bodybuilder.
Business meetings, outdoor events, family time --when you're out and about doing everyday activities, muscle pain and tense joints are the LAST things you want on your mind...
Ensure maximum, flexible movement and a great day no matter where you end up with the ⭐ Award Winning LCD Body Massage Gun.
It's truly compact size makes it the perfect travel companion. Just take it out, turn it on, and within seconds, it's ready to go! No wires necessary, just choose from 1 of 6 speed modes and be on your way!
It's unique multi-function design makes it easy to not only ease up large muscle groups, but also reach those small, stubborn spots.
And since it fits pretty much anywhere, you'll never have to worry about experiencing stiff muscle pain.
---A true "no-brainer" for a gym beast!---
*Due to Covid-19, shipping times will vary. Please allow 2-4 weeks for orders to be delivered. Thank you for your understanding and We are sorry for the inconvenience. Be safe!*
---SPECIFICATIONS---
Power Charger Rated input:100~240VAC 50/60Hz 1A
Battery --Rated
Type: Li-ion --Capacity: 2000mAh
Working Hour: 2-4 Hours Massages
Speed Adjustment: 1-6 Levels
Weight: 1400g
---PACKAGE DETAILS---
1 * Massage Gun
4 * Massage Head
1 * Power Charger(EU/US/UK/AU)
1 * User Manual Buffer Packaging